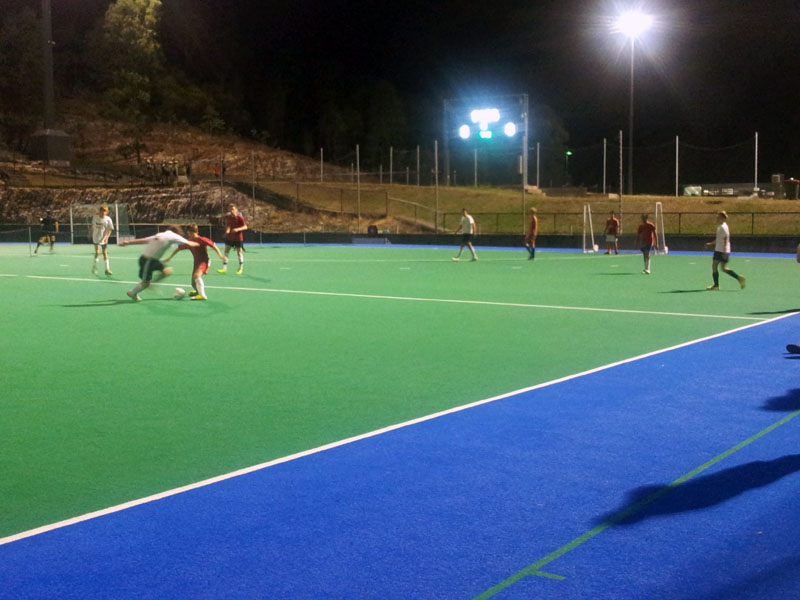 Brisbane Magic Futsal is pleased to have the state of the art facility at the State Hockey Centre on the southside of Brisbane at Colmslie. Brisbane Magic Futsal is a registered club affiliated to Brisbane Futsal Association which administers futsal under the auspice of The State and National governing bodies being Football Queensland and Football  Federation Of Australia.
All competitions are governed by the laws of the game set by FIFA. With the reform of Futsal being undertaken by Football Federation Australia, Brisbane Magic Futsal is proud to be affiliated with FFA and Football Queensland, officially signing the affiliation agreement on 13 May 2009. Both bodies have a strategic plan in place for the future of the game of Futsal and Brisbane Magic Futsal is well placed to join the adventure.
Brisbane Magic Futsal's vision is "To be a major force in Australian Futsal" Futsal represents significant benefits for the development and growth of a players skills, technical ability and fitness for both Futsal and Football players. Brisbane Magic Futsal is committed to establishing Futsal opportunities that will continue the success of this sport throughout Queensland. Brisbane Magic Futsal will continue to maintain the integrity of the sport creating a sustainable structure from which the sport can expand from, as well as provide competitions for players of all ages. It will support both team and talented player pathways, as well as education and development for coached and referees, to ensure that the talent as all levels within the sport is increased, and given opportunities to be identified and improved.
The Brisbane Magic Futsal season runs from Oct-Mar, 8 teams in every age group from under 8-15, Youth(16-18), Open Men's, Open Women's and Over 30′s
Our Features
4 FULL INTERNATIONAL SIZED PITCHED
2 FFA QUALIFIED REFEREE'S PER GAME
ESTABLISHED PLAYER DEVELOPMENT PATHWAY
REFEREE DEVELOPMENT PROGRAMS
BAR AND TAKE AWAY SHOP
PLAYERS CAN BE SELECTED FOR FFA NATIONALS TEAMS
PITCHES ARE SOFT CUSHIONED TURF
GAMES ARE PLAYED BY FIFA RULES
Goals
TO PROVIDE A SAFE AND ENJOYABLE FUTSAL EXPERIENCE.
TO BE THE LEADING FORCE OF FUTSAL IN THE BRISBANE AND SURROUNDING AREAS.
TO PROVIDE TOP QUALITY REFEREE'S AND COACH'S VIA FFA APPROVED COURSES AND MENTORING PROGRAMS.
PROVIDE A DEFINED PLAYER/COACH PATHWAY TO REPRESENTATIVE LEVELS OF FUTSAL.
UP HOLD THE FIFA STANDARDS OF "FAIR PLAY" BY PLAYERS, COACHES, OFFICIALS AND SPECTATORS.
Player Registrations
All player registrations are a two step process.
Step1. Fill out the online registration by clicking the Register Button
Step2. Print the registration Invoice and bring it to one of the sigh up days with:
Upload a passport size photo to your online profile.
Any Identification if you are new to Brisbane Magic
Your registration fees