REFEREE RESOURCES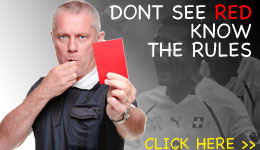 Futsal Refereeing Is Tougher, Says Matsuzaki
FIFA and AFC Futsal Referees Instructor Yasuhiro Matsuzaki has negated the common belief that officiating the shorter version of the game is easier compared to football.
"The futsal pitch is smaller and the playing time is also shorter but it doesn't mean it's easy to play or officiate this game," the 56-year-old told www.the-afc.com on the sidelines of AFC Elite Education Seminar.
"Futsal referees need agility, run almost like 80 minutes and have to make decisions in a split second as the game flows so fast.
"The pressure on a futsal referee is sometimes bigger than their counterparts in football," the former FIFA assistant referee and a futsal referee said.
Matsuzaki felt that both the versions of the game have similarities except the rules and playing time.
"Futsal referees also need to be fit but we concentrate more on short sprints and reaction exercises as you have to be at the top of your fitness and stamina levels."
"Football referees cannot take futsal for granted. They cannot think of officiating fusal games after retirement because in that age, despite having stamina and fitness, the referees lose their agility."
Matsuzaki praised AFC for introducing the AFC Futsal Club Championship from this year while saying he would like to see more people taking up futsal refereeing.
"More countries are actively playing futsal but the number of referees is not growing. I hope more regional futsal tournaments will come up in the future and it will generate interest to take up futsal refereeing," he added.
-Courtesy the-afc.com
REFEREES REQUIRED FOR CLUB MATCHES AT COLMSLIE
Brisbane Magic Futsal will be looking for referee's for the upcoming Futsal season to officiate club matches at the State Hockey Centre, Colmslie.
New referees will be required to undertake a Football Australia referees course prior to officating matches.
All referees will be paid match fees for their services and referees with an ambition to officiate at higher levels and earn more money will have the opportunity to referee at Football Queensland Premier League matches and State Championships.
Interested persons should email to register their interest or call Armando on 0404 879 206.
Courses will be announced shortly.